What is Arc Flash?
Arc flash, also called a flashover, is the light and heat produced as part of an arc fault, a type of electrical explosion or discharge that results from a low-impedance connection through air to ground or another voltage phase in an electrical system.
Legal Issues and Employer Responsibilities
Arc Flash Center Safety Training and Certification
National Fuse Products offers customized safety training programs for your workers several times during the year. The instructor Jack Bene is a National Electrical Codes Instructor (licensed by the State of Ohio) and has completed over 150 flash studies for commercial and industrial facilities.  In addition, Jack has trained several hundred companies on arc flash hazards, shock and electrocution hazards, grounding, over current protection and general national electrical code topics. You can view Jack Bene's complete curriculum vitae.  Interested in attending an arc flash training seminar? We are now offering the seminars nationwide via Zoom for individuals and companies.
Selecting Personal Protective Equipment (PPE)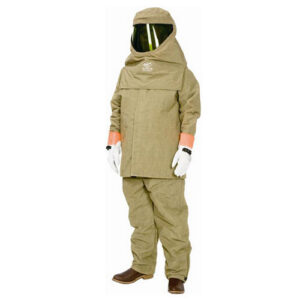 Making personal protective equipment available for your workers is the responsibility of the employer.  As a licensed distributor of Cementex, National Fuse Products is proud to offer their fire resistant clothing and safety equipment. Click here to view the entire line of personal protection equipment we can order for you. For sizing of gloves or FR clothing, please see the following guides:
Another valuable protection device is the Fluke Infared Viewing Window which allows IR inspections without exposing your personnel to possibly catastrophic or fatal incident energy levels.
Reducing Arc Flash Hazard Using Current Limiting Fuses
The fuse industry has responded with new classes of fuses that reduce the incident energy, and the radius of any arc flash blast – which improves safety and reduces the level of personal protective equipment that workers are required to wear. National Fuse supplier Mersen, a world leader in current limiting fuses has four classes of current limiting fuses. Mersen arc flash fuses are type-2 no-damage circuit protection and are available in: Class CC, Class J, Class RK5, and Class L. Opening in less than quarter cycles under short circuit conditions, Mersen fuses limit enough current to prevent down time and arc flash damage. This arc flash calculator shows the benefits of Mersen current limiting fuses. The calculator uses IEEE calculations for the incident energy – which is much lower than older fuses – and references the level of PPE required which is less restrictive and more comfortable for your workers.  The universal Class RK1 product family replaces a wide array of older fuses — and results in the least prohibitive NFPA70E arc flash boundary.
Additional Arc Flash Resources