European Electrical Fuses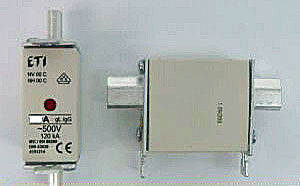 National Fuse is a leading supplier of automation and industrial European electrical fuse components. Our European fuses meet domestic and international standards: UL, NEC, CSA, IEC, VDE. National Fuse European electrical fuses include DIN Standard and British Standard.
European Fuse Options
European electronic fuses come in glass and ceramic and in the following sizes: 5x20mm, 5x25mm, 5x30mm, 6.3x32mm, 250V and 500V
Diazed bottle fuses available in 5 sizes: ND-E 16 (D1), DII-E 27, DIII-E 33, DIV-R 1.25, DV-R2
Neozed bottle fuses available in 3 sizes: D01, D02, D03
Knife blade fuses, stud mount: NH000, NHC00, NH00, NH0, NH1, NH2, NH3, NH4
European fuse speeds: gL, gG, gI, gF, gR, aR, aM
Cylindrical fuse sizes: 8X32mm, 10X38mm, 14X51mm, 22X58mm
European Diazed and Neozed bottle fuses have available accessories including screw caps, adapter screw/rings, fuse bases and fuse covers.  National Fuse carries a wide variety of bottle fuses, cylindrical fuses and knife blade fuses.