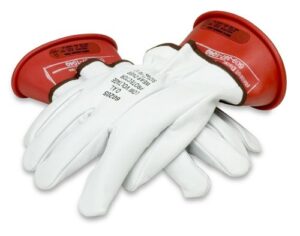 Insulating electrical gloves are critical PPE (personal protective equipment) for electrical work on or near exposed energized parts. Electrical gloves must be rated for the voltage to which a worker will be exposed (phase to ground or phase to phase) and marked to indicate their rating. There are different classes of electrical gloves and our staff can provide you with the right class for the voltage that you will be working on. The classes are as follows: Class 00 / Class 0 / Class 1 / Class 2 / Class 3 / and Class 4.
OSHA requires that electrical gloves must be tested at regular intervals of every 6 months for gloves in use and once a year for gloves still in their box or bag.  Once the gloves are tested, they are date stamped and the clock starts ticking again. If an employee is found to be using out-of-date gloves, OSHA may issue a fine to the company of up to $500 per each pair of gloves.
For years now, National Fuse has been offering companies solutions for handling their OSHA required electrical glove testing. The National Fuse Electrical Glove Program is easy to enroll in.  Here is how it works:
It does not matter if you buy new gloves from us or have existing gloves – National Fuse can provide proper testing following OSHA protocol.
Testing is done by our Certified Technicians.
We will keep accurate records for your company's reference.
We will follow up with you after (5 months) to remind you that your gloves will be expiring soon and need to be sent out for testing.
If you are located within 1-1/2 hours drive time from our facility, we will pick up the gloves needing testing and return them after testing.
If you are located more than 1-1/2 hours from our facility, you will need to ship the gloves to us and we will ship the gloves back after testing.
The best way to handle glove testing is to have two pairs of gloves for each of your Techs – one (black) pair for the first 6 months and a second (red or yellow) pair so you can rotate these gloves every 6 months.
The cost for testing per pair is very affordable.
"I highly suggest National Fuse for your electrical glove testing needs.
They know their business and are great to work with."
~ Jack Bene, licensed National Electrical Codes Instructor
Leave the glove testing to National Fuse so you know you're covered and can spend more time on running your business. Call us today at 800-328-0496 and ask for Mark Zell or Angie Graham or email us at sales@nationalfuse.com and we will enroll you in our glove testing program.  National Fuse Products also carries a variety of Cementex protective equipment which can be found on our Cementex product page.