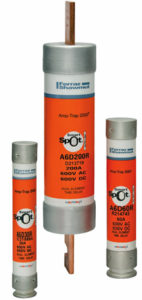 Mersen was founded several years ago by combining the domestic company Gould Shawmut with the lead European fuse company Carbone Lorraine Ferraz. Mersen fuses now has the best international array of fuses with the technical superiority of the American leader.
Mersen Fuses Offering No-Damage Circuit Protection
Mersen arc flash fuses are type-2 no-damage circuit protection and are available in four classes: Class CC, Class J, Class RK1, and Class L. Opening in less than quarter cycles under short circuit conditions, Mersen fuses limit enough current to prevent down time and arc flash damage. Their current-limiting ability is among industries highest allowed levels for motor starting and transformer in rush current without nuisance opening. Smart Spot open fuse indicator was added to the line. When the Mersen fuse opens, Smart Spot immediately surges it and turns from silver to red. The Spot remains red to facilitate proper capable out.
Mersen fuses come in a full line of midget, miniature and PC mount fuses. Mersen's complete power fuse offering covers a wide range of applications and a complete range of circuit protectors. AMP-TRAP power fuses, TRI-ONIC time delay and the ONE-TIME fuse line Class J: AJT, A4J, HSJ; Class L: A4BQ, A4BY, A4BT; Class CC: ATDR, ATQR, ATMR; Class RK1: A2K, A6K, A2D, A6D; Class T: A3T, A6T; Class RK5: TR, TRS; Class K: OT, OTS.