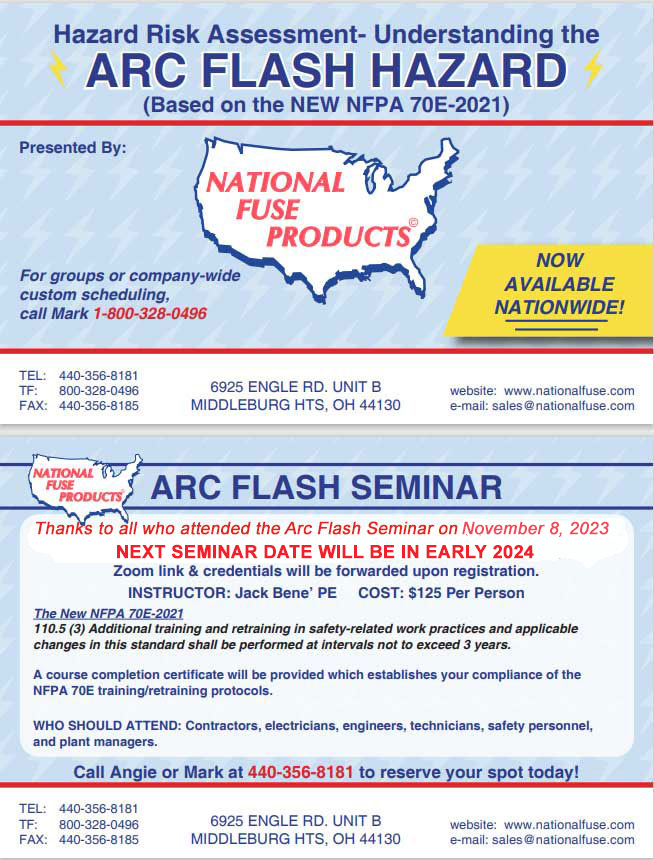 National Fuse Products offers customized OSHA electrical training for your workers throughout the year.  OSHA requires re-certification every 3 years. The New NFPA 70E-2021 code states: 110.5 (3) Additional training and retraining in safety-related work practices and applicable changes in this standard shall be performed at intervals not to exceed 3 years.
Who should attend:  Contractors, electricians, engineers, technicians, safety personnel, and plant managers.
The instructor Jack Bene is a National Electrical Codes Instructor (licensed by the State of Ohio) and has completed over 150 flash studies for commercial and industrial facilities. In addition, Jack has trained several hundred companies on arc flash hazards, shock and electrocution hazards, grounding, over current protection and general national electrical code topics. You can view Jack Bene's complete curriculum vitae and a sample of the Arc Flash Safety Outline.
Due to the pandemic, we are now offering the seminars nationwide via Zoom for individuals, corporate groups or company-wide customer training. The training seminars fill up quickly, so don't hesitate if you're interested in reserving a spot. A course completion certificate will be provided which establishes your compliance of the NFPA 70E training/retraining protocols. To reserve your spot, please contact either Mark Zell at (800) 328-0496 or (440) 356-8181 or email them at sales@nationalfuse.com. A Zoom link and credentials will be forwarded upon registration.