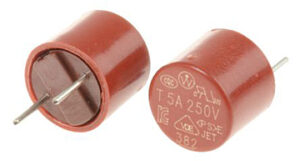 Wickmann has been engineering circuit protection solutions to set quality and performance standards for more than 80 years. Advancing innovation in fusing technology to contribute to our customer's success has always been their objective.
A sample of our innovation is the 5x20mm replaceable cartridge fuse developed in the 1930's. Standing the test of time, the 5x20mm design is still a worldwide standard and the preferred choice of protection in many consumer electronics applications.
During the 1960's and 1970's the miniaturization of electronic devices generated the axial leaded Picofuse and radial leaded Microfuse. With technological advancements, the popular space-saving TR5 fuse was introduced in the 1980's and most recently, Wickmann introduced the "SM" series of surface mount fuse products which employed patented element bonding technology.
Each of these developments over the last eight decades was a completely new engineering concept introduced by Wickmann. In 2005, Wickmann became a division of Littelfuse and continues to provide circuit protection components of superior quality and performance.
If the fuse or product you are looking for is not shown online – just give us a call at 800-328-0496 or contact us online and our customer service team will be glad to help you. We normally are able to get any part or product you are looking for at a very competitive price.