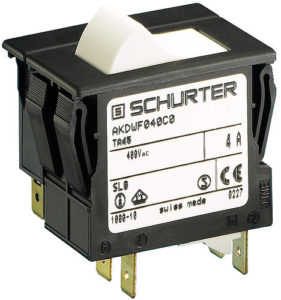 Schurter was founded back in 1933 and continues to be a family run company

to this day. In recent years they have made a number of acquisitions all across the globe, allowing them to further expand the variety of products they offer and continue to branch out internationally.
The Schurter Group is divided into two divisions. The Component Division encompasses the equipment protection, equipment connections, switches and EMC products business units including the measurement service. The Input Systems Division develops and produces customized solutions based on touchscreens, capacitive technology and membrane switches.
Schurter Electronic Components is a leading innovator and producer of electronic components. Schurter manufactures a variety of products including fuse holders, fuse links, circuit breakers, indicators, connectors, and transformers. When you purchase the Schurter brand from National Fuse, you will be receiving a reliable product from one of the industries most trusted manufacturers.
If the fuse or product you are looking for is not shown online – just give us a call at 800-328-0496 or email us at sales@nationalfuse.com and our customer service team will be glad to help you. We normally are able to get any part or product you are looking for at a very competitive price.