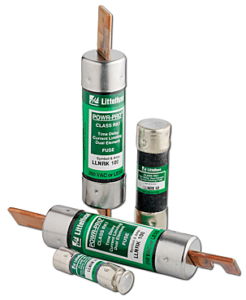 Littelfuse is an international corporation dedicated to serving customers worldwide with innovative circuit protection products that consistently surpass commonly accepted performance standards. Since the 1920, Littelfuse has continued to design and manufacture patented circuit protection innovations that are now the standards in the electrical, electronic and automation, and military industries. Innovative concepts such as the award winning Littelfuse JTD_ID Class J indicator fuse, the smallest time delay 60 Amp CCMR, and the 600V AC/DC LDC Class L fuse are examples of recent products that are rapidly moving Littelfuse into global electrical circuit protection leadership. Littelfuse electrical fuses are offered in a variety of types as noted below.
Overview of Littelfuse Electrical Fuses
Littelfuse Powr-Pro – The POWR-PRO series provides superior current limiting protection with innovative, tested designs to prevent or reduce electrical system damage. Powr-Pro also reduces inventory by standardizing system protecting provide visual blown fuse indication with LLSRK_ID, JTD_ID, FLSR_ID, and IDSR indicator fuses. Learn more about the Po
Littelfuse Green Label – The Green label fuses provide superior current limiting from 1/10-600 amps. Type II "no damage" coordinating with NEMA and IEC motor circuits. Blown fuse indication LLSRK_ID and JTD_ID compact protection for motor circuits JTD and CCMR.
Littelfuse Red Label – UL listed 600V AC/DC fuses – The red labeled Littlefuse electrical fuses are the only UL listed 600V AC/DC fuses with 1/10-2000 amps, now with electrical blown fuse indication.
The all new LLSRK_ID series electrical fuse is the most advanced Arc Flash Class RK1 fuse available providing unparalleled performance and protection to modern circuits. The patented indication technology provides instant identification of blown fuse greatly enhancing system up-time, while the precision formed short circuit elements virtually eliminate damage to components form unexpected electrical faults.
National Fuse Products is a  licensed distributor of Littelfuse electrical fuses. If the fuse or product you are looking for is not shown online – just give us a call at 800-328-0496 or email us at sales@nationalfuse.com and our customer service team will be glad to help you. We normally are able to get any part or product you are looking for at a very competitive price.