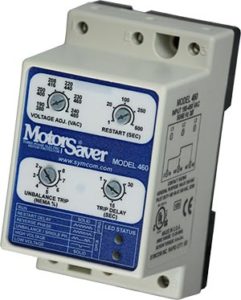 Since 1974, SymCom has been a leader in electronic control and protection design and manufacturing with an array of current and voltage monitors, motor and pump controls, and custom electronic controls. Often recognized by the MotorSaver®, PumpSaver® and SSAC® brand names, SymCom's products provide protection, communications, and control for most types and sizes of motors and pumps.  SymCom also manufactures load sensors, alternating relays, intrinsically-safe relays, software, and custom controller boards. They have made a name for themselves as one of the most reliable brands in the industry.
In 2014, electronic's leader Littelfuse acquired SymCom, Inc. Founded in 1927, Littelfuse is the world leader in circuit protection with growing global platforms in power control and sensing.  The company serves customers in the electronics, automotive and industrial markets with technologies including fuses, semiconductors, polymers, ceramics, relays and sensors. Littelfuse producted a short video to meet the team behind their MotorSaver®, PumpSaver® Protection Relays:
Symcom products are manufactured using the highest standards. They are backed by a number of approvals, including UL, CSA, and CE. When you purchase a Symcom product from National Fuse, you can rest assure that you will be receiving a quality product that will stand the test of time.
If the fuse or product you are looking for is not shown online – just give us a call at 800-328-0496 or email us at sales@nationalfuse.com and our customer service team will be glad to help you. We normally are able to get any part or product you are looking for at a very competitive price.