Insulating gloves are critical PPE (personal protective equipment) for electrical work on or near exposed energized parts. Insulating gloves must be rated for the voltage to which a worker will be exposed (phase to ground or phase to phase) and marked to indicate their rating.
Testing and Inspection. Gloves must be electrically tested before being issued for use. They must also be visually inspected and air tested for any possible defects (for example, cuts, holes, tears, embedded objects, changes in texture) before each day's use and whenever there is a reason to believe they may have been damaged.
Insulating gloves may not be used if any of the following defects are present: holes, tears, punctures or cuts, ozone cutting or ozone checking, embedded foreign objects, texture changes, including swelling, softening, hardening, or becoming sticky or inelastic, and any other defect that damages the insulating properties. [See 1910.137(b)(2)(iii) and ASTM F1236-96, Standard Guide for Visual Inspection of Electrical Protective Rubber Products]. Insulating equipment failing to pass inspection must be removed from service and may not be used by workers.
OSHA requires that the gloves must be electrically tested at regular intervals of not more than 6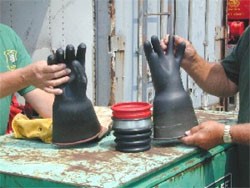 months. OSHA also advises that gloves should be stored properly when not in use. Proper storage is defined as not allowing the gloves to be folded and they should be kept out of excessive heat, sunlight, humidity, ozone, and any chemical or substance that could damage the rubber.
If gloves are not used for one year and are still in the box or bag they must to be sent out for testing after one year. The gloves are then date stamped and the clock starts ticking again.  If an employee is found to be using out-of-date gloves, OSHA may issue a fine of up to $500 to the company.
National Fuse Products carries a variety of Cementex protective equipment which can be found on our Cementex product page.